Data Analytics
Doing business better using advanced analytical analysis.
What Is Data Analytics?
Data analysis, or data analytics, is a process of inspecting, cleansing, transforming, and modeling data with the goal of discovering useful information, suggesting conclusions, and supporting decision-making. Data analysis has multiple facets and approaches, encompassing diverse techniques under a variety of names, in different business, science, and social science domains. – Wikipedia
Advanced Analytics
Advanced Analytics has become a new competitive front in the Oil & Gas industry
Most majors and some independents have initiatives underway
Service companies and software suppliers are developing new offerings based on data integration, data visualization and algorithms
Papers and presentations about data analytic applications adding value are becoming common
Example Exploration and Production industry innovations
Exploration: Eliminate the 30+% wasted time geoscientists manipulating data
Production Operations: Tune artificial lift to increase production 5-10% from legacy fields
Major Capital Projects: Reduce time & capital commitment to first production by 30-50%
Asset Integrity: Digital asset management reduces costs 25% and increases production 8%
Drilling & Completion: Algorithms to increase wellbore effectiveness 10% over best crews
Business & Cost Management: Reduce breakeven cost 30-50% (North America Shale Operators).
Data Analytics at ConocoPhillips
Data Analytics is revolutionizing the way work is done
ConocoPhillips' experience to date demonstrates E&P value proposition is significant
Data Analytics enables:

Increased productivity from petrotechnical staff and other professionals
Improved, faster or real-time decisions through better analysis of data we already collect
Identification of opportunities not obvious from traditional E&P solving techniques
Integrating data across functional boundaries such as linking cost data to operational performance
Leveraging Data Analytics Globally, Realizing Local Improvements
Eagle Ford: Years of Running Room at Measured Pace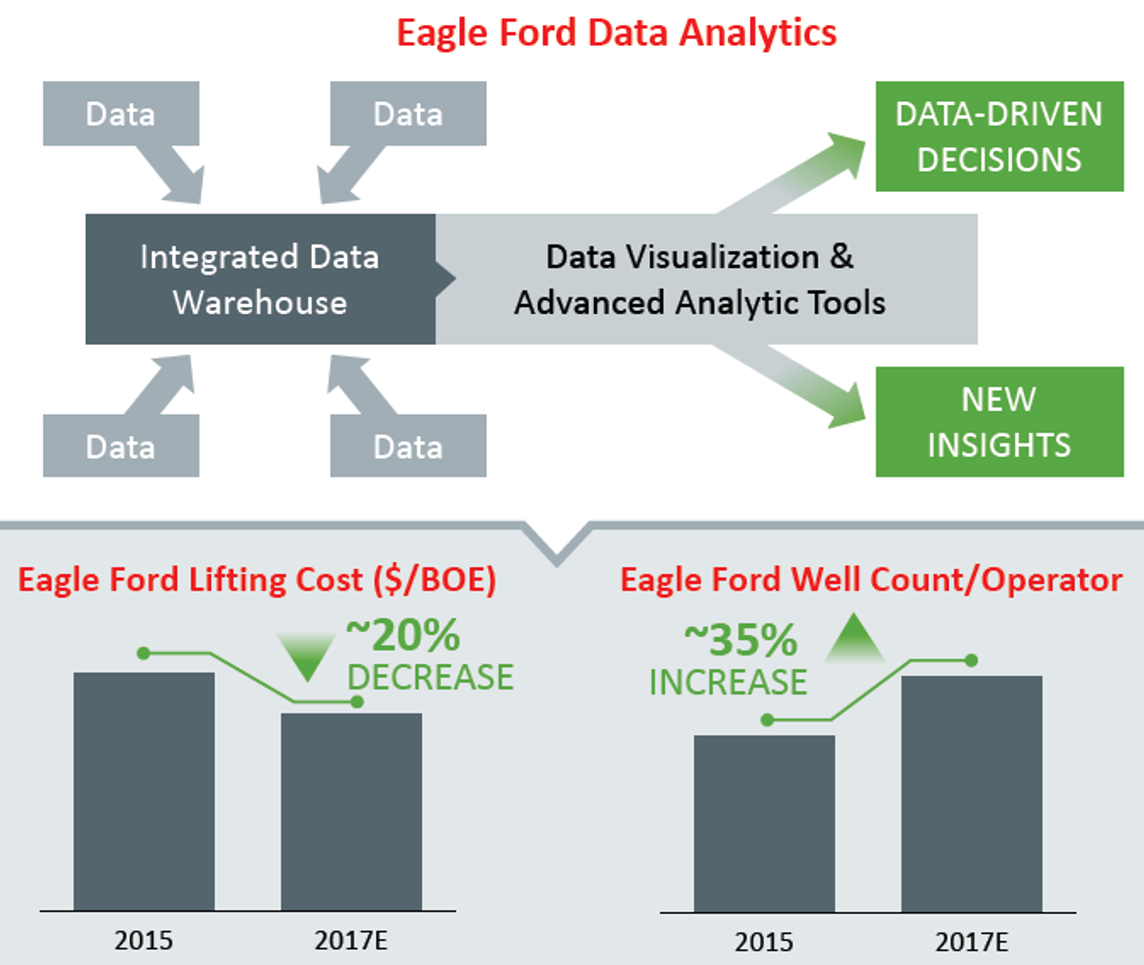 Bakken: Optimizing Across Every Aspect of the Play
2017 Improvement Drivers
Continuing significant reductions in drilling time
Doubled completion size and reduced cluster spacing
Machine learning is informing complex technical decisions
Niobrara: Unlocking Value by Lowering Cost of Supply
Innovating to Lower Cost of Supply
Competitive position in a liquids-rich play
Recent improvements in drilling time and completion costs
Drilling multi-lateral pilot in 4Q 2017
Accelerating pad development with 2018 program
Examples of Impact of Data Analytics in Conventional Operations
Process adaptation from unconventionals to conventional E&P.
Improve Cost of Rentals: Analytics process to minimize equipment rental time
Improve sourcing of materials for preventive and corrective equipment maintenance
Improve well placement and reduce number of sidetracks by using data analytics to improve history matching
Understanding of Equipment Failure: Generators
Model compressors degradation